August 2013: We were all set to travel as a family to Ahmedabad for our son's national spelling bee finals. And then it happened. She left us forever, three days before we had planned to travel. My first instinct was to cancel the trip. A cousin however advised that I should consider proceeding with the plan so that my 6 year old's dreams are not dealt another blow, even if a less devastating one. And some time away would help me come to terms with the turn of events as well. I was trying to get a grip on what had just happened. The thought that my son had looked forward to this trip with such eagerness pushed me to take it up despite the circumstances. And that is how I began to travel as a single parent, within 3 days of becoming one. I must admit I was not fully present mentally throughout the trip. The big "whys" and "hows" of life loomed over my head while my son was all excited about the trip and was hopeful to crack the competition. My son was aware that he had lost his mother, however either it did not sink in completely or he was too young to fully fathom the implications.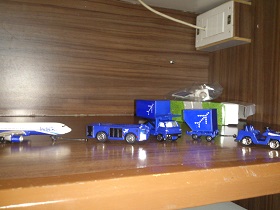 We reached Ahmedabad a day before the competition and I let my son buy a handful of goodies on the flight. Daddy dearest was in an overtly giving mood to keep the little one happy. We had almost an entire day to ourselves. I was not keen to venture out of the hotel, while my son had high hopes that this trip would be just like any other. Communicating with locals was another constraint. My language skills are not particularly great and my Hindi hovers somewhere between "can understand most of it" and "can stitch a sentence with a maximum of 3 to 4 Hindi words along with some English words". Despite this I managed to get a taxi booked for the day; remember this was during pre-Ola/ Uber times. The choices were either the kaala peela (yes, that's what they were called!) or a handful of private taxis. In retrospect I wonder how I picked a taxi company, one with a passable website and vehicles with their brand name painted all over them.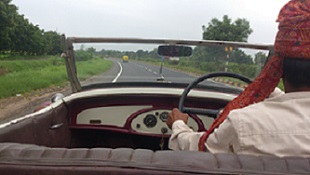 Based on a quick search on the cellphone, we zeroed in on a few places to visit. The first place we visited was 'Auto World', a vintage car museum. My son was going through a phase of being drawn to anything with wheels. So I felt a visit to the museum would excite him. The museum was situated on a deserted stretch of the highway. The taxi driver had to drive in circles to locate it. The maps on Google were not very accurate then. The museum had a huge collection of cars and we were the only visitors. I would not say he was as excited as I would have expected him to be although a few exhibits piqued his interest. I tried to up my educative ante by explaining how old the cars were and highlighting some of the models. He just was not interested. There was an option to get a ride in a vintage car for just INR 500. The hosts were very friendly and helpful. There was a small kid's play area with a toy train which he was excited about.
After visiting the museum we met one of my son's friends who was also participating in the spelling bee, at Akshardham. There is always quite a crowd in this place. Visitors are asked to check in all their personal belongings at the gate. It was early evening, time for my son to have milk, so I went hunting for a place that served food. There were only pushcarts selling snacks in the parking lot but not one good restaurant or a milk parlor. We had to drive at least 15 minutes to reach a place which looked like a public park. Completely unprepared to handle this situation, I forgot to bring a container to cool down the hot milk. It was an ordeal trying to cool the milk using paper cups. Back at Akshardham we got tickets for the famous water show. Went there with zero expectations, but was pleasantly surprised. It was an open air theater where artists performed against the backdrop of an artificial mountain, water fountains, lasers and moving stages. The hour long show depicted the story of a young boy Nachiketa, who braves Yamraj (the God of death). There was a small snack counter but it was crowded. My son enjoyed the show.
The next day my son participated in the spelling bee and he did not make it to the top five. For the first time I was left alone to handle a crying 6 year old. He cried nonstop for almost 20 minutes. I had no clue what would work with him for the first 10 minutes, and my mind went blank. Then used his all-time favorite snacks as a ruse to improve his mood — a KFC treat! Apparently there was only one KFC in the whole city and it was run by hearing and speech impaired staff. It was a sight to watch them run an impeccable service. I tried upping my social ante to show him how the staff worked inspite of their disabilities but all he had in mind was where to find a drumstick in the bucket!
We stayed at the Ginger hotel during our stay. It was a no frills hotel with a friendly staff and a restaurant serving simple food. The hotel was located on a very busy road with an obscured entrance on an inner road.
This trip did not help me much but it did help my son in a good as well as a bad way. On on hand he learnt that daddy was ready to compromise and give whatever he demanded. On the other, he learnt his first lesson on loss – losing his mother was a major event but life would go on – a lesson that would serve him for the rest of his life.